See on Scoop.it – Leadership, Innovation & Enterprise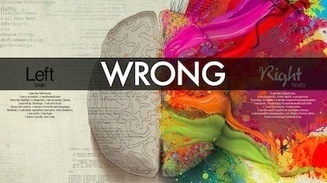 "Thoughtful cognitive neuroscientists such as Rex Jung, Darya Zabelina, Andreas Fink, John Kounios, Mark Beeman, Kalina Christoff, Oshin Vartanian, Jeremy Gray, Hikaru Takeuchi and others are on the forefront of investigating what actually happens in the brain during the creative process. And their findings are overturning conventional notions surrounding the neuroscience of creativity.
The latest findings from the real neuroscience of creativity suggest that the right brain/left brain distinction is not the right one when it comes to understanding how creativity is implemented in the brain. Creativity does not involve a single brain region or single side of the brain.
Instead, the entire creative process– from the initial burst of inspiration to the final polished product– consists of many interacting cognitive processes and emotions. Depending on the stage of the creative process, and what you're actually attempting to create, different brain regions are recruited to handle the task."
Library@NYP's insight:
Interesting article on how our brain works in our creative thinking process.
See on blogs.scientificamerican.com